■ Basic Structure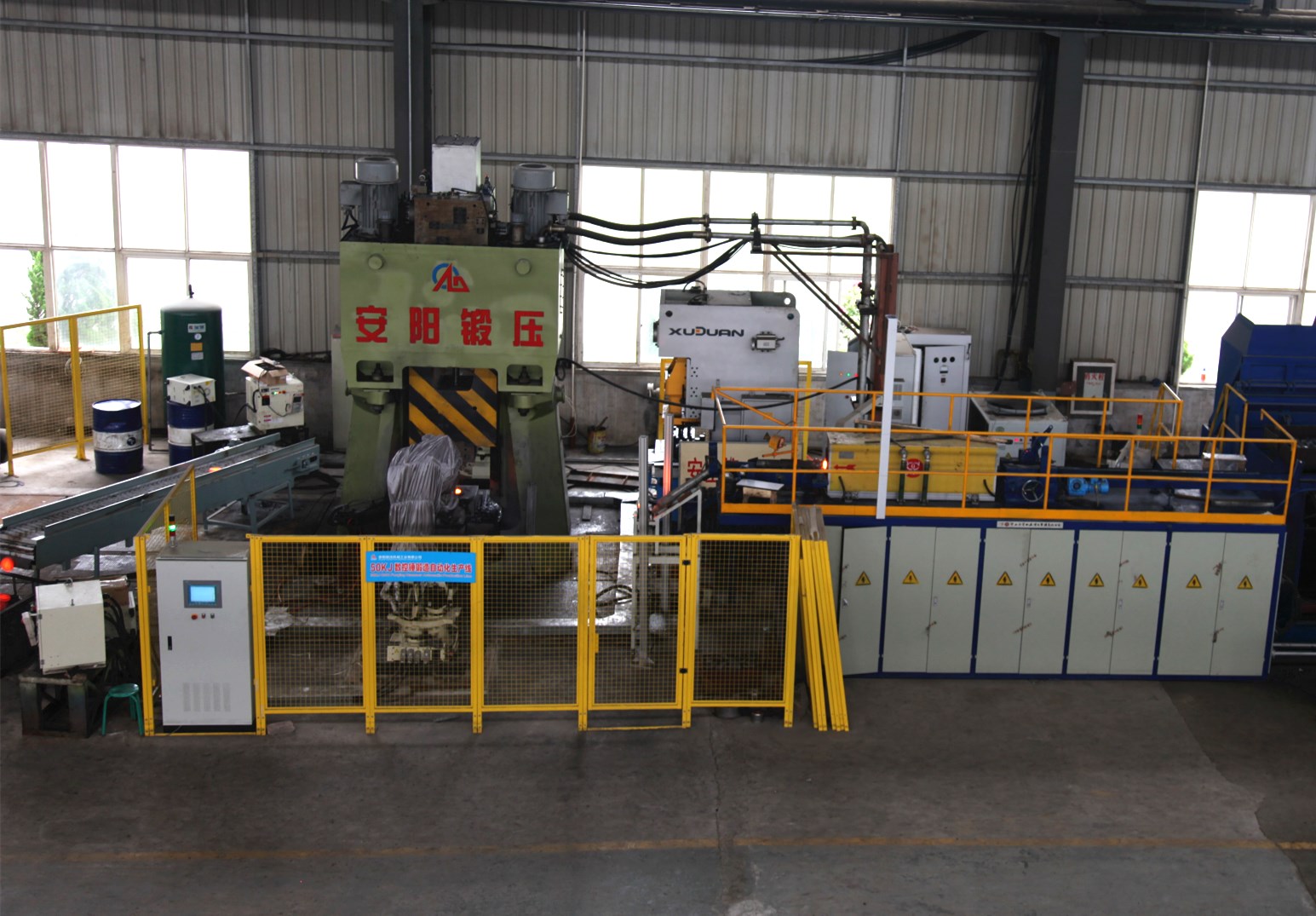 Automatic Closed Die Forging Line
■ Performance Features
CNC forging hammer to be the Key forging machine among the automatic forging line, Anyang Forging Press can supply one step service build the automatic forging line. Include cutting machine, heating machine, forging hammer, forging robot, trimming press and integration system etc. Automatic forging line advantages as follow:
1. Save labor cost.
2. Forging quality is better.
3. Production efficiency is high.
4. Low defective rate.
5. Can do multi-cavity forging.
6. Prevent industrial accident.
■ Technical Data
CNC hydraulic die forging hammer technical parameter:
| | | | | | | | | |
| --- | --- | --- | --- | --- | --- | --- | --- | --- |
| MODEL | C92K-12.5 | C92K-16 | C92K-20 | C92K-25 | C92K-31.5 | C92K-40 | C92K-50 | C92K-63 |
| Hit energy(KJ) | 12.5 | 16 | 20 | 25 | 31.5 | 40 | 50 | 63 |
| Weight of falling parts(kg) | 860 | 1080 | 1350 | 1700 | 2150 | 2700 | 3400 | 4300 |
| Max hit number(min-1) | 129 | 122 | 123 | 113 | 100 | 98 | 98 | 98 |
| Hit stroke(mm) | 420-620 | 435-635 | 455-665 | 470-685 | 490-755 | 510-790 | 530-775 | 550-805 |
| Working oil pressure(Mpa) | 20 | 20 | 20 | 20 | 20 | 20 | 20 | 20 |
| Main motor power(KW) | 37 | 45 | 55 | 75 | 75 | 90 | 2*75 | 2*75 |
| Machine weight(kg) | 19000 | 27000 | 30000 | 39300 | 51500 | 58000 | 78500 | 95000 |
CNC hydraulic die forging hammer technical parameter:
| | | | | | | | | |
| --- | --- | --- | --- | --- | --- | --- | --- | --- |
| MODEL | C92K-80 | C92K-100 | C92K-125 | C92K-160 | C92K-200 | C92K-250 | C92K-320 | C92K-400 |
| Hit energy(KJ) | 80 | 100 | 125 | 160 | 200 | 250 | 320 | 400 |
| Weight of falling parts(kg) | 5400 | 6800 | 8500 | 10800 | 13700 | 17100 | 21000 | 27000 |
| Max hit number(min-1) | 92 | 81 | 70 | 70 | 60 | 50 | 45 | 40 |
| Hit stroke(mm) | 570-835 | 595-885 | 615-920 | 640-960 | 740-1060 | 770-1100 | 740-1150 | 860-1200 |
| Working oil pressure(Mpa) | 20 | 20 | 20 | 20 | 20 | 20 | 20 | 20 |
| Main motor power(KW) | 2*90 | 2*90 | 2*110 | 3*90 | 2*160 | 2*160 | 2*200 | 4*160 |
| Machine weight(kg) | 120000 | 148000 | 195000 | 265000 | 285000 | 330000 | 410000 | 465000 |
■ Video
CNC Forging Hammer Automatic Production Line
CNC Forging Hammer Automatic Production Line
CNC Forging Hammer Automatic Production Line
CNC Forging Hammer Automatic Production Line