Casting is the process where non-shape metal molten into a solid shape. We use castings for components that are too large, complicated or otherwise unsuitable for the forging process, forge large items make casting become a much more viable alternative.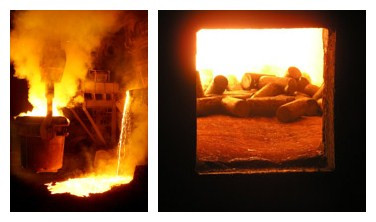 Forging is the transformation of one shape solid into another. Forging offers uniformity of composition and structure. Molded at high temperature by extrusion, can be refined in the grain of the workpiece. This strengthens the resulting steel product particularly in terms of impact and shear strength. Forged steel is generally stronger and more reliable than castings and plate steel due to the fact that the grain flows of the steel are altered, conforming to the shape of the part.
The advantages of casting include:
1.No real upper size limit in casting weight;
2.Large range of alloy choices;
3.Tooling is often less expensive than forge dies;
4.Smaller production "runs" required.
The advantages of forging include:
1.Will handle impact better than castings;
2.The nature of forging excludes the occurrence of porosity, shrinkage, cavities and cold pour issues;
3.The tight grain structure of forgings making it mechanically strong. There is less need for expensive alloys to attain high strength components;
4.The tight grain structure offers great wear resistance without the need to make products "superhard".
Anyang Forging Press Company has 65 years history in producing forging equipment. We can supply all kinds of forging machine.
Closed Die Forging Machine: CNC Forging Hammer, Fully Hydraulic Forging Hammer, Hydraulic-Gas Forging Hammer and Electric Screw Press
Open Die Forging Machine: Fully Hydraulic Forging Hammer, Hydraulic-Gas Forging Hammer, Hydraulic Forging Press and Pneumatic Forging Hammer
Steel Balls Machine: Pneumatic Forging Hammer for Steel Ball and Steel Ball Skew Rolling Machine
Forging Assistant Machine: Hydraulic Forging Manipulator, Charging Manipulator, Ring Rolling Machine and Metal Chips Briquetter
If you want to learn more about forging,and want to know more about forging machine, please let me know.
Youtube | Twitter | Linked | Facebook | Website

Bellea Yuan--Marketing Manager
Anyang Forging Press (Group) Machinery Industry Co., Ltd
Mobile: 0086-18317777560(whatsapp)
E-mail: bellea@anaynghammer.com
Website: www.chinesehammers.com